IRVINE, Calif., July 1, 2013 – EON Reality, the world's leading interactive 3D software provider, together with local partner T.A.S.K. Trading Ltd, a leading audio-visual installer in Cyprus, today announced the installation of the first 4-wall immersive Virtual Reality environment in Cyprus, the EON Icube, at the Immersive and Creative Technologies (ICT) Lab at the Cyprus University of Technology in Limassol.
The immersive EON Icube system is the main component of the ICT Lab project which focuses on facilitating the advancement of multi-disciplinary research and development in Cyprus. In particular, the project aims to bridge the gap between the various disciplines by leveraging the common research methodologies and techniques employed by all disciplines, through the establishment of a state-of-the-art multimodal interaction Icube facility. It enables users to collaboratively engage in an interactive, real-time and visually immersive environment. The research project is co-financed by the European Regional Development Fund and the Republic of Cyprus through the Research Promotion Foundation.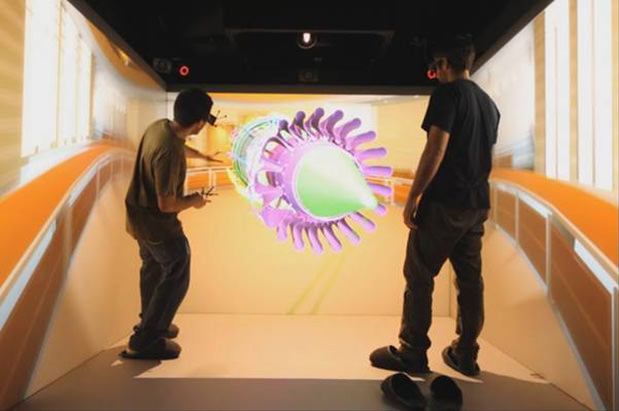 EON Icube being built from the ground up at the Immersive & Creative Technologies Lab (ICT Lab) at Cyprus University of Technology
The EON Icube installed in Limassol is a 4-wall system with high-end 3D projectors (up to 7,500 lumens per wall and 1.5mm pixel size). It features the very latest tracking technology by VICON and RF 3D glasses by Volfoni. Motion trackers are implemented to monitor the user's position and orientation and are used to calculate a stereoscopic perspective view while allowing the user to freely move into and around the objects floating in space.
"The project involves three research activities from different research areas and the success of these depends directly on the use of the EON Icube. The technological objectives of the three activities are: 3D reconstruction and visualization of underwater archaeological sites, automatic creation of custom avatars for use in remote collaborative virtual environments, and development of algorithms to simulate crowd, where the viewer is part of the virtual world/crowd," said Charalambos Poullis, Director of the Immersive and Creative Technologies Lab, Cyprus University of Technology.
About T.A.S.K. TRADING
T.A.S.K. TRADING LTD is a leading audio-visual specialist with 20 years' experience in distribution and installation of professional audio visual equipment. It operates in most market segments such as government, education, corporate, broadcast, entertainment as well as home cinema. It has established a reputation for offering above average to high quality products and services. For further information, visit www.taskav.com.cy.
About the Immersive and Creative Technologies Lab
The Immersive and Creative Technologies Lab conducts fundamental and applied research in the area lying at the intersection of computer vision and computer graphics. More specifically, the ICT Lab is actively involved in research and development in the following areas:
3D Data Acquisition & 3D Reconstruction
Development of 3D scanning technologies based on active and passive sensors, algorithms for rapid 3D reconstructions and its applications to Cultural Heritage. Of particular interest is the development of methodologies for the rapid reconstruction of large-scale urban and archaeological sites.
Augmented and Virtual Reality
Development of interactive visualization technologies and augmented/virtual reality applications.
Recognition & Tracking
Development of algorithms for object recognition, real-time markerless tracking, and feature extraction.
New knowledge and other research outcomes resulting from the research at the ICT lab are disseminated through teaching, research projects, and collaboration with the industry. For further information, visit http://www.theictlab.org/
About EON Reality
EON Reality, Inc. is the world's leading interactive 3D visual content management and Virtual Reality software provider. EON Reality provides state-of-the-art 3D display technology for immersive and stereoscopic viewing, from portable tablet PCs and glass free stereo display systems to curved-screen and immersive rooms consisting of multi-channel projection walls. The technology foundation for developing interactive digital content includes importing the most common 3D animation formats into EON's authoring software and creating modules and applications that can be viewed on various display systems. EON's technology solutions enable all organizations to more effectively visually communicate, collaborate and accelerate knowledge transfer. For further information, visit www.eonreality.com.